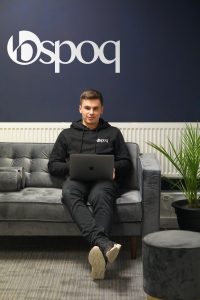 Matt Sandham, Director of bspoq, took part in the Enterprise Education programme while a student at Ellon Academy in 2014.
The Wood Foundation funded this programme from 2010 to 2014 which was delivered in partnership with Elevator, formerly known as Enterprise North East Trust, and Entrepreneurs in Action. Its aim was to provide innovative, real-life enterprise experiences, which could be tailored to fit the needs of each school supporting students and teachers towards successfully establishing sustainable, profit-generating businesses. The programme engaged business partners in school activity, as well as professional learning for teachers.
Matt shares in this blog how the experience shaped his career pathway.
"I was introduced to the Enterprise Education programme whilst at Ellon Academy when I was 16 years old. Before that I had a keen interest in business and entrepreneurship and so when the programme was first brought to the school one of my teachers at the time suggested that I attend the introductory session which was led by Samantha Leys and Emilia Stanczyk.
"The idea of starting a business at school, going through a lot of the process risk free and then to have the opportunity to pitch our business to someone at a senior level in an organisation like The Wood Foundation was an opportunity that I didn't want to pass up.
"There was a group of around six students who went through the programme that year. We all took up different roles and started a sports clothing brand with the intention of it becoming part of the school uniform for PE and the schools' sports teams.
"My girlfriend at the time was also on the programme and she was put forward by the group to be CEO whilst I took up the role of CFO, the other members of the group were mostly all younger than us and so together we were encouraged to take on leadership roles.
"The programme certainly then had an impact on the paths we chose during and after school and we're actually still together to this day. I continued down the business route and she is now a secondary school teacher in Peterhead helping to inspire the next generation.
"After school I went to RGU and, inspired by what we had done on the programme, I started my own clothing business called Versain with a friend. We built the business over a three-year period whilst at University, designing and selling garments to our peers and also online.
"Upon leaving University I got a job with a local business called Duotool, who at the time were going through a management buy-out and were looking to move their business online. They had a foundation and wanted to improve what they had done to that point. I joined the business originally as a web designer but soon took on the role of E-Commerce Manager leading the online side of the business for around three years to become one of the biggest in that industry. The leadership skills I developed over that time coupled with my passion for growing businesses made me decide that it was the time to start up my own agency. I initially specialised in e-commerce but with the intention of adding to the suite of services to best support our clients with the growth requirements of their businesses.
"bspoq was founded in 2019. It has supported businesses around the UK who haven't yet reached their full growth potential. By becoming strategic partners with them, we implement our business and marketing framework to help them realise that potential and deliver some incredible results.
"When I look back to my experiences as a 16-year-old, there are two things that really come to mind. First was the emotional relationship I had with entrepreneurship. I reaffirmed to myself that it was what I wanted to commit my professional life to. I never really enjoyed school, certainly not the academic side of it. I did ok, well enough to get into university and then to complete a bachelor's degree, but running and building businesses always went hand-in-hand with any education I was doing at the time. Secondly, the Enterprise Education programme taught me a lot about the mechanics and principles of running a business. Being able to do that in an environment that was fully supported meant you had the freedom to push boundaries.
"Truthfully, I believe our modern education system is fundamentally flawed. It rewards memory and expects every individual to learn and be graded in the same way. The real world doesn't work like this, it's a lot more nuanced. By getting real-life experiences when at school, it gives young people exposure to what life outside of that environment is really like. It gives them a platform to become more confident in themselves and discover what they like and what they don't like. I've worked since I was about 14 or 15 years old and, whilst I did some pretty unglamourous jobs, I would always encourage young people to go and do this.
"My advice to young people who want to become entrepreneurs would be simple, just try stuff! You'll make mistakes, you'll have successes, you'll work some silly hours, you'll find what you're passionate about, you'll grow in confidence and the best thing is you have so much time.
"We live in a time and a generation of over-glamorised social media 'lives' and young people today think they should be a certain way or achieve an arbitrary number of followers or money by the time they're 21. It's daft. Becoming a young entrepreneur, you've got to be patient, work hard, and realise you're at a time in your life with minimal responsibilities (in most cases) so if it doesn't work you can dust yourself down and go again."