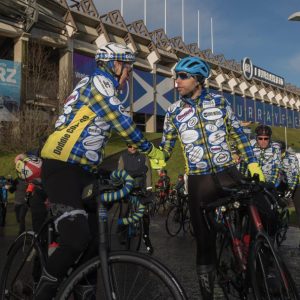 The Wood Foundation has supported the Doddie 500 for a second time.
The epic 48-hour challenge saw Mark Beaumont, Rob Wainwright and their teammates cycle 500 miles from Murrayfield to Cardiff's Principality Stadium, delivering the match ball for the Wales vs Scotland Six Nations Fixture Calcutta Cup.
The endeavour was in aid of the My Name'5 Doddie Foundation, which is fundraising for research into Motor Neurone Disease, as well as supporting those living with the condition. The Wood Foundation contributed £10,000 to the fundraising total.
World record cyclist Mark Beaumont said:
"A huge thank you to The Wood Foundation for once again supporting the My Name'5 Doddie Foundation. This support cornerstones a massive amount of fundraising from the hundreds of participants in the Doddie Aid campaign and in particular the cyclists riding to the Six Nations match.
"Covering the 500 miles in two days to Cardiff was an incredible feat of endurance from all involved and I am proud of all their efforts.  It is Wonderful that The Wood Foundation stands firmly behind this amazing community, making a big difference to the research into MND and looking after those living with the disease."
The Wood Foundation's UK Director Ali MacLachlan added:
"Congratulations to Mark, Rob, and everyone who joined them on the cycle. We are proud to have partnered once more with this awesome initiative to raise public awareness and vital funds for Motor Neurone Disease."
To find out more about the My Name'5 Doddie Foundation, visit https://www.myname5doddie.co.uk/.