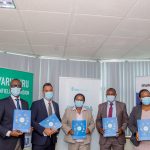 Today, the Government of Rwanda, Unilever Tea Rwanda and The Wood Foundation Africa (TWFA) announced a second phase of the existing Nyaruguru tea project adding a further 3,000 hectares of smallholder catchment to be supported by an additional tea processing factory.  The Nyaruguru tea project is not only the largest greenfield tea project in Africa for many years but also unique in that small farmers represent the majority of production.
This will expand the total scale of the project to a 6,400-hectare smallholder catchment fully supported by a dedicated farmer services company with an 800-hectare commercial plantation and two processing factories operated by Unilever Tea Rwanda, who provide a direct route to international markets.  The smallholder catchment will expand to include parts of Busanze, as well as Kibeho, Munini, Mata, and Cyahinda sectors.
The decision to add a second phase comes after the progress of the original project exceeded expectations.  The Unilever core plantation has developed ahead of schedule, with the farmers of Nyaruguru showing they can effectively plant out to scale and produce high-quality tea with the support of the Services Company of Nyaruguru as originally set up by the Wood Foundation Africa, with co-financing from UK Aid and the Gatsby Charitable Foundation.
Phase 2 will be fully financed by the Government of Rwanda, Unilever Tea Rwanda and The Wood Foundation Africa and includes US$20 million of support for farmer development.  Thousands of more farmers and their families can now transform their lives growing high-quality tea in an area where acidic soils restrict options, trapping them in low-value crops.
Commenting on the project, Hon. Minister Geraldine Mukeshimana; the Minister of Agriculture said that: "Nyaruguru tea project is expected to positively impact the livelihood of farmers by increasing their income. Moreover, the project will further contribute to the growth of tea exports, which are expected to generate $209 Million by 2024. This project is the best investment to add value to the acidic soils."
Christian Byron, Unilever's Africa Vice President for Supply Chain added: "This project shows the power of partnership as we can both grow great tea in Rwanda for our brands and transform the lives of thousands of farmers.  There is no better endorsement for the efforts of the Rwandan Government, The Wood Foundation Africa, Nyaruguru farmers and hard work of our staff than to see this expansion."
Sir Ian Wood, the Chairman of TWFA also commented that: "This is an ambitious and exciting development for the country and builds upon the already successful relationship we have with both Unilever and the Government of Rwanda.  Ultimately, this is all about the smallholder tea farmer, helping them to retain and build value on their land by creating a very long-term biological asset while ensuring a premium market is in place for quality green leaf.  This investment will create thousands of jobs and provide income for generations.  The impact will be transformational and has already been recognized by the recent award of Nyaruguru as a top-performing District."
The Nyaruguru Phase I tea project broke ground in 2017 and it consists of a 3,400-hectare smallholder catchment, plus an 800-hectare commercial tea plantation with one processing factory.
About Unilever
Unilever is one of the world's leading suppliers of Beauty & Personal Care, Home Care, and Foods & Refreshment products, with sales in over 190 countries, and is also the world's largest tea business with leading brands such as Lipton Yellow Label, PG Tips, Brooke Bond Red Label and many others. For more information visit www.unilever.com
About The Wood Foundation Africa
The Wood Foundation Africa is a Scottish-registered organization that focuses on improving the livelihoods of farmers in Africa through venture philanthropy.  For more information visit www.thewoodfoundation.org.uk/africa/
About National Agricultural Development Board (NAEB)
NAEB is a government agency under the Rwandan Ministry of Agriculture and Animal Resources with the mission to facilitate the growth of business to diversify agriculture and livestock commodity export revenues. For more information visit www.naeb.gov.rw
About Rwanda Development Board
Rwanda Development Board is a government agency responsible for leading the country's transformation to a dynamic global hub for business, investment, tourism and innovation. Its mission is to fast track economic development in Rwanda by enabling private sector growth. For more information visit www.rdb.rw.
For further inquiries, please contact communications@rdb.rw