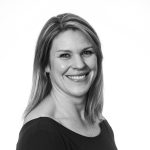 Our UK Director Ali MacLachlan reflects on her decade at The Wood Foundation; the lessons she has learned, the management and team culture fostered, and the continued opportunities for transformational change and growth.
"I vividly remember reading about the launch of the then Wood Family Trust and saying to my mum, 'that would be the dream job'. Little did I know that a few short years later I would join the team as UK Manager and spend the following 10 years leading an inspirational team of people to deliver transformational change.
"Not only has The Wood Foundation significantly evolved in the past decade, but I as a professional have too.
"What lies central to my management philosophy, and the values of the organisation, is an absolute commitment to people and relationships. These are measured in depth rather than breadth. Empowered voice throughout our team, trusted and collaborative partnerships with our stakeholders, and realising that confident people with the skills and opportunities to lead change will lead change.
"Creative solutions do not need to be bold and brash, nor epiphanous. We are delivering innovative ideas and actions every day, never more so than in 2020.
"To deliver the systemic and sustainable impacts that we aspire to, ideas cannot be fully formed by an individual, nor even an individual organisation. Collective insight, action, and ownership is key to success.
"Innovation requires bravery. Innovation requires trust. Innovation requires collaboration. Innovation must be constant.
"There are a great number of projects, programmes, and investments of which I am incredibly proud to have played a part. But to focus simply on outputs is not reflective of my personal or our organisational journey in the past decade.
"Our culture has evolved to one that creates space for everyone to contribute and excel and allows for these incredible ideas to succeed. Reflecting only on macro success also does not celebrate the great number of micro-innovations which pave the way for the transformational, systemic change that we are committed to delivering through our endeavours.
"A decade has passed since I joined this team and committed to supporting Sir Ian Wood achieve his ambition and legacy for his family's trust. It was unimaginable to me in 2010 that I would be in this position in 2020, reflecting on everything we have achieved. As for the next 10 years, there is much we cannot foresee but what we can be sure of is that people, innovation, and transformation will be our guiding principles for all that is yet to come."