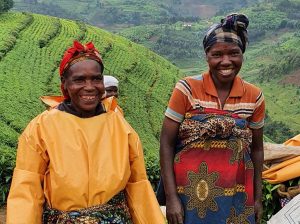 The Wood Foundation Africa has released a 2020/21 annual overview regarding two of its tea greenfield development programmes taking place within Nyaruguru and Karongi districts in Rwanda.
Covering the period March 2020 to March 2021, it details the successes, challenges and lessons learned, with particular impact noted in the areas of farmers' net income, job creation, as well as increased productivity and quality.
David Knopp, Director of Africa at The Wood Foundation, offered these reflections of the progress of the greenfield sites over the past year:
"COVID-19 has been a serious challenge for everyone. Fortunately, the agriculture sector, and tea in particular, were designated a priority crop for the economy which allowed our smallholder businesses to remain in operation.
"Through sensitisation, preventative measures, and adherence to strict safety protocols, we have managed thus far to mitigate the impact of this pandemic and surpass our annual targets. In fact, in many of the communities where we work our businesses have proven to be the sole source of employment and income during the pandemic. This has assisted our tea expansion efforts, as more farmers realise how the unique value proposition of Rwandan tea translates into a strong market demand, premium price, and reliable source of income."
An infographic containing key statistics of achievements in 2020/21 at the Rugabano and Nyaruguru Greenfield sites is available here.