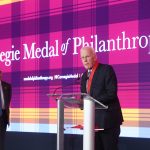 The Wood Foundation's Chairman, Sir Ian Wood KT GBE, was honoured at a ceremony in New York by the Carnegie family of institutions. Sir Ian was the only philanthropist from outside of the US to be recognised with the Carnegie Medal of Philanthropy this year. He used the opportunity to encourage his American peers to consider the impact of international philanthropy.
"Andrew Carnegie's philanthropy began at home in Scotland and he was keen to encourage others to give. He would have been very pleased about how YPI is introducing tens of thousands of young people to look at areas of need in their own communities and take an active role in channelling grants. And we have a range of North-east and Scotland-wide investments which are making a real, sustainable difference in the economy, education and charity.
"But, charity must not end at home.  The developing world, which is more than half the world's population, faces a different scale of hardship and suffering:
more than 2.9 million children die every year from malnutrition. Pneumonia and diarrhoea are the deadliest illnesses accounting for a quarter of all infant deaths, and there are 202 million children under five undernourished and underweight.
globally 340 million children and young people have no school education.
800 million people live in extreme poverty – 2.5 times the population of the USA.
"In Sub Sahara Africa, more than 217 million people are undernourished, yet half of the world's uncultivated agriculture land lies on that continent.  That has to be an opportunity and why we chose, after significant market research, to invest in the tea industries of Rwanda and Tanzania where the team has achieved fantastic results which are benefitting farmers and their families now and will continue to do so for generations to come.
"There's undoubtedly challenge working in different countries, understanding complexities and opportunities. But transformational impact is possible and every dollar spent overseas will have a far greater impact.
"I would urge philanthropists to apply business principles and market research to identify the opportunities that fit their giving profile.
"Only 5% of US philanthropy is international. Our generation has not been good at accepting the concept of global responsibility.  We're certainly not doing a great job in enhancing the harmony, prosperity and wellbeing of mankind.  Somehow, the overseas and global problems have seemed somebody else's to solve.
"Bill Gates says it very well 'we should all judge ourselves, not just on how best we're looking after our planet and its ecosystems, but on how well we're helping look after impoverished, sick and downtrodden people a world away who have nothing in common with us except they are fellow human beings'.
"At The Wood Foundation, I am very proud of the wonderful things the team is achieving in Scotland and I am equally proud to have a professional, focussed team delivering real change in Sub Sahara Africa. The two portfolios are very different but equally important to us in achieving our main philanthropic goal of reducing inequity by giving people opportunities to help themselves and achieve a sustainable outcome."
Watch Sir Ian's speech.
Watch Abby from Grangemouth Academy representing YPI and The Wood Foundation.