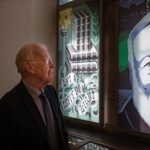 Sir Ian Wood KT GBE has been announced as one of the recipients of the Carnegie Medal of Philanthropy on the 100th anniversary of the passing of Andrew Carnegie.
The medals are awarded once every two years to a handful of global philanthropists who the Carnegie family of institutions believes seek to create a world of positive change through their giving.
Sir Ian Wood, Chairman of The Wood Foundation which was established in 2007, is the only European philanthropist on this year's list. He said:
"I am very proud and honoured to be one of this year's recipients of the Carnegie Medal for Philanthropy. I feel a particular pride in representing Scotland on this, the 100th anniversary of the passing of our greatest national philanthropist.
"My own philanthropy has undoubtedly been at least partly inspired by Andrew Carnegie, an industrialist turned philanthropist who gave people huge opportunities locally and globally.  I hope he would be pleased with a fellow Scot, albeit one from a different generation, who has achieved a tiny fraction of his accomplishments in increasing access, reducing inequity and giving people the tools and platforms to help themselves."
The Wood Foundation's work in the UK and Africa includes managing a diverse range of interventions and investments centered on a venture philanthropic model which promotes sustainability, systemic change and transformational impact on the basis of helping people to help themselves.
In Rwanda and Tanzania, The Wood Foundation is transforming regions through the tea industry. As well as investing significant funds and expertise, it is also training 5,000 smallholder farmers each year to create a sustainable industry which can be successful for generations to come. More than 70,000 smallholder farmers now work directly with the Foundation on up to 20,000 hectares of land, creating additional employment for more than 30,000 people.
Recently, more than 9000 smallholder farmers in Rwanda, many of whom had previously been living in serious poverty, held two celebration events called 'Barazzas' to thank The Wood Foundation for its interventions.
In Scotland, the flagship programme of its 'developing young people in Scotland' portfolio is the Youth and Philanthropy Initiative (YPI). The active citizenship programme has engaged more than 175,000 young people introducing them to philanthropy through the responsibility of awarding nearly £4m to charities. Its recent annual event saw 1000 young people come together to celebrate their achievements, discuss serious social issues and consider how they would continue their philanthropy after YPI.
Sir Ian Wood added:
"I know Andrew Carnegie was always very keen to encourage others to give and I think he would have been very pleased with YPI and its role in engaging young people with philanthropy.
"Celebrations such as the Barazzas or the YPI National Event are hugely important to us. Meeting the people who are engaging with our programmes and hearing their stories is always inspiring.
"As Carnegie himself said 'You cannot push anyone up a ladder unless he be willing to climb a little himself'. This medal is as much a testament to them as it is to us. It also recognises the invaluable support of my family and the work being done by the teams of talented, committed and professional people who are managing our philanthropic activities."
The Wood Foundation has also created the first private sector-led economic development body in Scotland, Opportunity North East, which is leading the economic renaissance of Aberdeen City and Shire as it enters a new era. The Foundation also funded the design and build of a free-to-use multi-storey car park at Aberdeen Royal Infirmary.
The Wood Foundation supports efforts to reduce childhood poverty in Scotland, improves primary pupils' access to motivating and inspiring STEM education and delivers educational programmes to promote global citizenship.
Sir Ian Wood will collect his medal and Andrew Carnegie bust at a ceremony in New York in October. For more details on the Carnegie Medal of Philanthropy and the other 2019 recipients, visit: https://www.medalofphilanthropy.org/
For more information on the work of The Wood Foundation, read the latest Chairman's Review here.