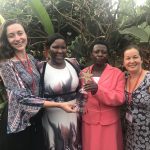 A professional and personal development programme which has provided a career-defining and life-changing opportunity to more than 100 Scotland-based education practitioners is inviting applications for its next cohort.
The Wood Foundation's Global Learning Partnerships (GLP) initiative, which involves a month-long summer placement in rural and city regions in Rwanda or Uganda upskilling educators in the country, enhances participants' innovation, leadership and creativity skills.
The programme is accredited by the General Teaching Council for Scotland (GTCS), as well as being endorsed by Education Scotland. It is an 18-month programme which, alongside the placement, includes training and debrief weekends, support towards accreditation in Global Education within Learning for Sustainability and access to a collaborative professional network.
Georgea Hughes, Programme Manager at The Wood Foundation, said:
"We are incredibly proud to have worked with inspirational education practitioners who are having an enormous impact in empowering Scotland's young people with the skills, confidence and awareness to be the active, critically-enquiring citizens of today and the future.
"GLP is a unique professional learning opportunity for those interested in harnessing the opportunities afforded by Learning for Sustainability and Global Education.
"We are delighted to be launching recruitment for 2020 and welcoming the next generation of members to the GLP network."
GLP is majority-funded by The Wood Foundation, a GTCS-accredited provider of professional learning. The month in Rwanda and Uganda is delivered in partnership with local education charities which support the development of teacher trainers who cascade learning throughout the two countries.
Laura Hepburn travelled to East Africa in summer 2019. She said:
"I don't think I could have ever visualised how much of an impact the week placement has had on me.  In what is realistically a very short space of time, my attitude and mindset has gone through a subtle change and I feel empowered as a practitioner."
To find out more about GLP and to apply visit www.glpscotland.org.uk.