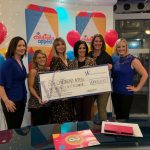 The Wood Foundation has pledged a further £150,000 to the STV Children's Appeal to support charities delivering meaningful change for families facing the stark reality of child poverty.
The latest donation brings the total to more than £1m across the seven years the Foundation has supported the campaign.
As well as committing funds which support projects in the North-east of Scotland, The Wood Foundation is also represented on the Appeal's Board. UK Director Ali said:
"We are delighted to have reached this milestone in our support of the scores of organisations funded by the STV Children's Appeal which are working tirelessly to support families throughout Scotland.
"We must challenge the misconceptions of poverty and ensure children are provided the opportunities, platforms and settings to thrive."
The STV Children's Appeal has raised more than £21m to address child poverty in Scotland.
Margaret Ford, Chair of the STV Appeal, said:
"When The Wood Foundation announced they would contribute £150k per year to the STV Children's Appeal back in 2013, we were delighted to welcome them on board as partners. We've built a wonderful relationship with the team and can't thank them enough for donating over £1m to the charity over the past seven years. This is an incredible amount that will continue to help children and young people affected by poverty in the North East. No child should experience this and The Wood Foundation is truly helping to make a difference."
For more information, visit www.stv.tv/appeal.