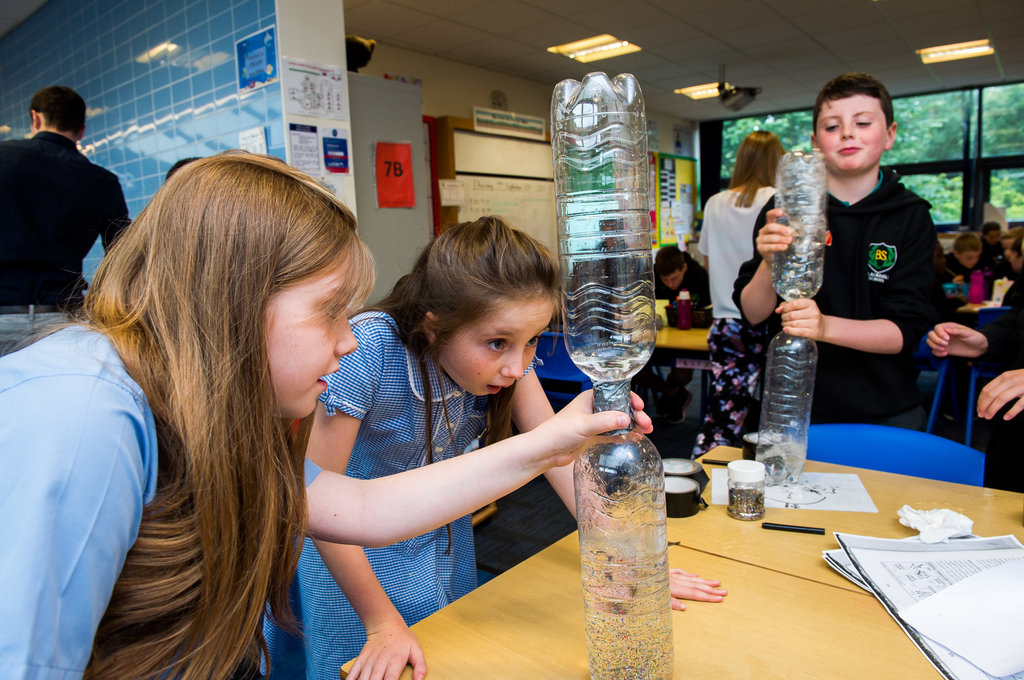 More than 85% of Scots primary pupils believe it is important to study science at school with favourite activities including experiments, group working and visiting science centres.
The findings are in a report commissioned by The Wood Foundation for its RAiSE programme.
Richard Lochhead MSP, Minister for Further Education, Higher Education and Science said:
"The RAiSE programme is an excellent example of how a joint venture between education and business can enhance pupils' experience of STEM learning in schools. Our STEM Strategy aims to build the capacity of the education and training system so that employers have the skilled workforce they need and RAiSE helps to support this."
RAiSE, which is led by Education Scotland, equips teachers with the skills to confidently teach STEM to primary school children, incorporating it with wider curriculum objectives.
Gayle Duffus, National Education Officer for RAiSE, said:
"It is wonderful there is such a desire from learners to engage with science. However, our report also found that less than 30% envisaged themselves working as a scientist when they grew up. What we need to do is harness the potential and motivation of learners at this formative stage and ensure they have exciting and creative opportunities to learn about science. Through positive, early engagement with Science and STEM, we can equip the next generation with both the skills and the desire to become Scotland's STEM workforce of the future.
Questions were asked of pupils, teachers and school leaders as they were about to embark on the RAiSE programme in Fife, Glasgow, Angus and Dumfries and Galloway. Science was 'liked' by 88% of children, with ICT attracting 96% and PE 94%.
The main reason for head teachers engaging with the programme was to promote pupils' aspirations regarding science and technology careers and the overall quality of learning and teaching methods of science.
Likewise, teachers' top priority was promoting career aspirations for young people. Teachers also wanted to increase interdisciplinary learning approaches, as well as developing their own knowledge and skills in relation to science teaching.
Gayle added:
"The survey responses show that, with the right support, Scotland's teachers and head teachers are keen to incorporate STEM in a more meaningful way into the curriculum to support pupil development and attainment."
The first tranche of schools in Moray, West Dunbartonshire, City of Edinburgh and the Highlands to take part in the RAiSE programme were also interviewed by the Robert Owen Centre for Education Change at the University of Glasgow.
The respondents, at the midway point of their involvement with the programme, praised the sustainable science-focussed networks being developed in their authorities, the training opportunities and partnerships being established and the role RAiSE plays in achieving objectives set out in the Scottish Government's national STEM strategy, as well as wider educational priorities.
Each area has an assigned Primary Science Development Officer (PSDO) who develops a tailored delivery model for RAiSE depending on schools' or local authorities' preferences.
Gayle commented:
"What has been achieved by our PSDOs in this short period is remarkable. Aligning RAiSE as something which helps fulfil existing priorities, rather than as an additional objective; developing strong local networks; alongside tailoring delivery solutions are already promoting confidence in educators. This in turn is directly improving the enjoyment, engagement and benefit of science in Scotland's classrooms."
RAiSE is funded by The Wood Foundation, Scottish Government and the participating local authorities. The National Education Officer is seconded to Education Scotland by The Wood Foundation. 
The programme is set to expand into additional local authority areas in the coming year.
Alan Armstrong, Strategic Director at Education Scotland, said:
"We are excited to be leading this programme which is helping to build the capacity, confidence and engagement of practitioners and learners in science and STEM across primary settings.
"We're encouraged by the positive impact highlighted in this interim report and we look forward to the next phase of the programme, which will see us expand the programme into other local authority areas."
RAiSE is a four-year pilot programme.