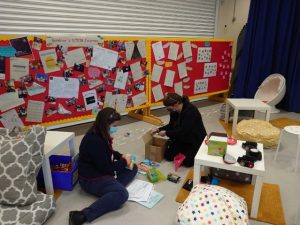 Laura McCafferty, National Education Officer for RAiSE, reflects on some highlights from the 2021/22 academic year and ambition for the programme's continued growth and impact.
"I cannot believe we are already at the end of the academic year. This has been my first in post as National Education Officer after previously holding a Primary Science Development Officer (PSDO) role and I am so proud of what the team and programme has achieved.
"Covid-19 has continued to pose challenge. In-person professional learning has only very recently resumed. But the PSDO team has learned so much from the past two years. Online delivery has been a huge asset in enhancing and increasing our engagement. It has meant that we have been able to continue to support practitioners as and when they need it. It was great to see the continued success of STEM leadership courses, delivered remotely, which built confidence, capacity, leadership, and collaboration. It is a huge testament to our PSDOs' ability to be flexible and adapt the structure of the course, as well as to the practitioners for their commitment.
"However, it is great to be able to return to some in-person events and engage in rich professional dialogue and discussion around STEM.  One prime example of this was an outdoor learning day coordinated with a PSDO and Head Teacher which engaged local families. This was very well received and an important opportunity to connect in a relaxed environment which promoted the school's STEM approach. The resources and learning have been shared with the PSDO network.
"We welcomed four new authorities to the network this year: Dundee, South Lanarkshire, Renfrewshire and Aberdeenshire. The new PSDOs have established important relationships, developed context-specific STEM action plans, and put in place some really exciting partnership-led initiatives, as well as professional learning.
"We have a number of authorities who have exited, or will soon exit, their formal period of RAiSE funding. It is great to have followed their journeys and to see the foundations that have been established for a sustainable STEM legacy. The local authorities involved see the benefit of the role of a PSDO in supporting STEM development and I'm pleased that all of the PSDOs are continuing in authority STEM roles.
"RAiSE has now engaged 20 of Scotland's local authorities and we continue our national roll-out of the programme, with further authorities currently developing plans to engage in 2022/23.
"Key highlights from this year have included some exciting partnership opportunities which have led to meaningful opportunities for teachers and pupils nationally. These include:
Global Underwater Hub (GUH): 101 practitioners trained in the Subsea Channel which highlightedhow subsea technologies can be used to demonstrate real-life application of scientific principles. The GUH funded kits and training for each of our RAiSE authorities aligned to five high-quality lesson plans.
ESP and IET, First LEGO League: The growth of this partnership has enabled more than 1000 children from 50 schools to take part in the Cargo Connect project, focussing on coding and programming.
Scottish Book Trust: PSDOs created resources to go with the titles shared in the bags which are distributed to pupils nationally. This relationship has now developed, and we are working with them once again in 2022/23.
"Thank you to everyone who continues to commit time, ambition, and support to ensure pupils are receiving exciting, motivating, context-driven STEM experiences."