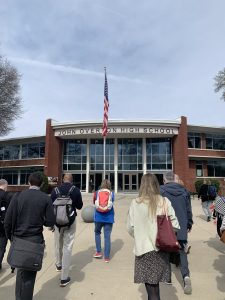 Georgea Hughes, Programmes Director, and Gayle Duffus, Education Director, at The Wood Foundation share their reflections on the growth and journey of the system change Excelerate investment in 2021/22.
Georgea Hughes:
"Excelerate isn't a linear journey, or an investment with one-size-fits-all prescribed solutions and outcomes. It's a continual learning process. At times this year, that has felt tense, messy, and immensely challenging. It has also been deeply rewarding, exciting, and worthwhile.
"Excelerate is all about mutual trust and respect in our relationships.
"This investment is coming to life thanks to the ongoing learning and commitment from our schools and our partners, and of course our dedicated team. And for that I am immensely proud and grateful.
"There have been some real highlights this year which show Excelerate in action. The School Leaver Profile event, and the student voice included, showed why this work is so important and how it can be acted meaningfully upon. We were also able to resume in-person study visits, giving practitioners the opportunity to 'see it to be it' and be inspired to change their practice.
"There has been a real growth in terms of the appreciation and dedication to skills development and how this is delivered in the curriculum, related to a whole host of areas including health and wellbeing, and equity."
Gayle Duffus:
"It has been incredible to be part of the growth of practitioners and their pedagogical practices.
"We hosted Scotland's first PBL 101. We trained more than more than 760 of the region's secondary teachers through PBL Splash. We took oracy from an introductory concept to one that is now being implemented in schools by empowered leads. I am proud of what our committed practitioners have achieved, and excited about how they will grow, implement, and cascade their learning.
"The learning and teaching focus of my role is inextricably linked to the wider objectives of Excelerate and aligned with what our communities are telling us they need for our young people through events such as the School Leaver Profile.
"This was a year of learning, and we look forward to taking more people on this journey next year as well as supporting practitioners to realise their ambitions for implementation of developments in learning and teaching."