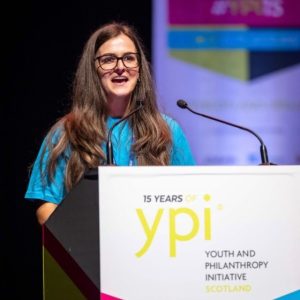 Lucia Giuntoli, YPI Partnerships Manager, reflects on the valued and vital partnerships that The Wood Foundation has with charities the length and breadth of Scotland as she attends SCVO's The Gathering in Edinburgh this week.
"As a philanthropic investor our connections with the wider third sector are so important in our ambition to address societal inequity, particularly through our YPI programme.
"Over the course of the past 15 years, more than 2000 grants have been made to local charities tackling a range of social issues from mental health to poverty and abuse. As well as the £6.8m boost this has injected into the sector have been the hundreds of thousands of young people empowered to drive change, inspired to realise their role as active citizens.
"This would not be possible without the dedication of charities who spend time with young people, sharing with them insight and information which help them to understand the root causes and immediate impacts of social issues and what can be done to address these.
"Not every charity involved with YPI can secure a grant, but they tell us that the opportunities to raise awareness and engage young people in their cause is incredibly valued. For The Wood Foundation, the significance of these reciprocal benefits is hugely worthwhile.
"In my role, I am proud to lead upon our work with charities, TSIs, and other third sector organisations. We share a common goal of achieving a better now and a better future. The openness and collaboration that is so prevalent in this sector are what is achieving these goals.
"It is wonderful to attend events such as The Gathering and hear from organisations doing incredible work. They inspire us and strengthen our resolve to continue empowering young people with the platforms and experiences to drive change."