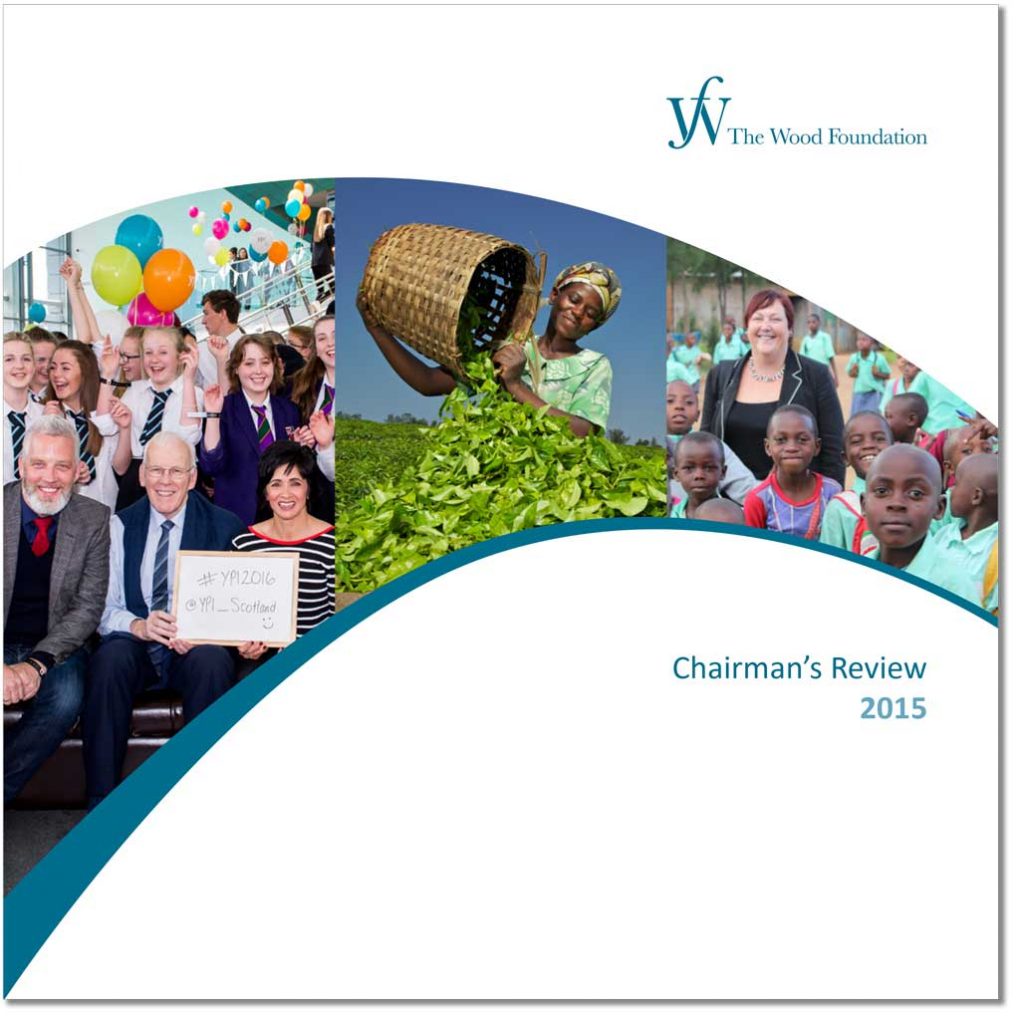 Key Highlights
£70million of investments and commitments to date
Leading philanthropist in tea industry in East Africa supporting 45,000 farmers and a 9,500 hectare new planting programme
195 secondary schools from across Scotland participated in Youth and Philanthropy Initiative (YPI)
£900,000 committed to launching new Improving Primary Science programme
Over £40million investment commitment to new initiatives in North East Scotland
The Wood Foundation's 2015 Chairman's Review will be published on Monday 19th September. Now in its ninth year of operation, The Wood Foundation (TWF) continues to make strong progress and has increased its investment in, and commitment to, activities in Scotland – in particular those based in the North East. To date TWF has invested and committed £70million through its venture philanthropy model, now evenly split across three focus areas – Making Markets Work for the Poor in Sub Sahara Africa, Developing Young People in Scotland, and Facilitating Economic & Education Development in Scotland.
In Sub Sahara Africa, working in partnership with Lord David Sainsbury's Gatsby Trust, TWF continues to make a significant impact within the tea sector and is the leading philanthropist in this industry. The Foundation now works with 45,000 smallholder tea farmers across Rwanda and Tanzania through our Imbarutso and Chai programmes and has seen an average 70% increase on farmer yields in the last two years while smallholder tea farmer income has doubled. Our programme includes 9,500 hectares of new tea planting. Additionally, 23% of all tea production in Rwanda now comes from the TWF majority owned Mulindi and Shagasha factories.
In Scotland, TWF supports a number of programmes focused on tolerance, citizenship, enterprise and philanthropy in young people. The Youth & Philanthropy Initiative (YPI) is one of the most successful school programmes in Scotland with more than 26,000 pupils involved from 195 schools in the 2015/16 academic year. There is every indication that this programme is having a meaningful impact on the philanthropic and caring mind set of many of these young people. The Global Learning Partnerships (GLP) is also growing and it is intended that the professional development opportunity for Scottish-based teachers will be extended from Rwanda into Uganda next year, increasing the number of teachers involved from across Scotland to about 40. TWF continues to support The Prince's Trust and the STV Children's Appeal. In addition we have introduced some new and exciting initiatives, including the "Improving Primary Science (IPS)" programme in partnership with the Scottish Government. The IPS programme will see regional specialists introduced to raise confidence and competencies of primary science teachers across Scotland. TWF has committed £900,000 to this programme and, if the pilot is successful, will invest £2.5million over 7 years.
During 2015, TWF committed £25million to Opportunity North East (ONE), the private sector led body that supports the development of four key industries (Oil & Gas; Food, Drink & Agriculture; Life Sciences; and Tourism) in the North East of Scotland. This commitment will be fund matched by Scottish Enterprise and other sources. Already ONE has had a significant impact on the Aberdeen City Region Deal with £210million of government funds now allocated to Oil & Gas; Food, Drink & Agriculture; and Life Sciences Innovation Centres. Other grants and funding include £10.7million to NHS Grampian for a new car park at Foresterhill Health Campus, a £5million grant for the creation of Robert Gordon University's Oil & Gas Institute, £2.75million in
state of the art Science, Technology, Engineering & Maths (STEM) teaching facilities at two Aberdeen schools and an ongoing commitment to support the Aberdeen Youth Games.
Sir Ian Wood, Executive Chairman of TWF commented: "TWF continues to make really good progress with a significant feature this year being our increased commitment to various economic and educational projects in Scotland. This has resulted in our funds now being evenly distributed across our three areas of focus; Making Markets Work for the Poor in Sub Sahara Africa, Developing Young People in Scotland, and Facilitating Economic & Education Development in Scotland. 
The Aberdeen Hospital Car Park has been my wife's project and has been extraordinarily well received with a very large amount of supportive messages. Opportunity North East (ONE) is a particularly exciting project which hopefully will have a real impact on the economy of the North East of Scotland. The Improving Primary Science programme adds to our already significant commitments in enhancing education across the 'STEM' subjects: science, technology, engineering, and mathematics. 
Our philosophy of helping people to help themselves continues to make significant inroads across all of our portfolios and our success means we are able to attract other likeminded philanthropic investors and donors. 
The Foundation is in good shape with good direction and an excellent management team. We have invested £25million to date, committed a further £45million and TWF has £90million funds still to commit, so we are not resource constrained in developing our programmes."