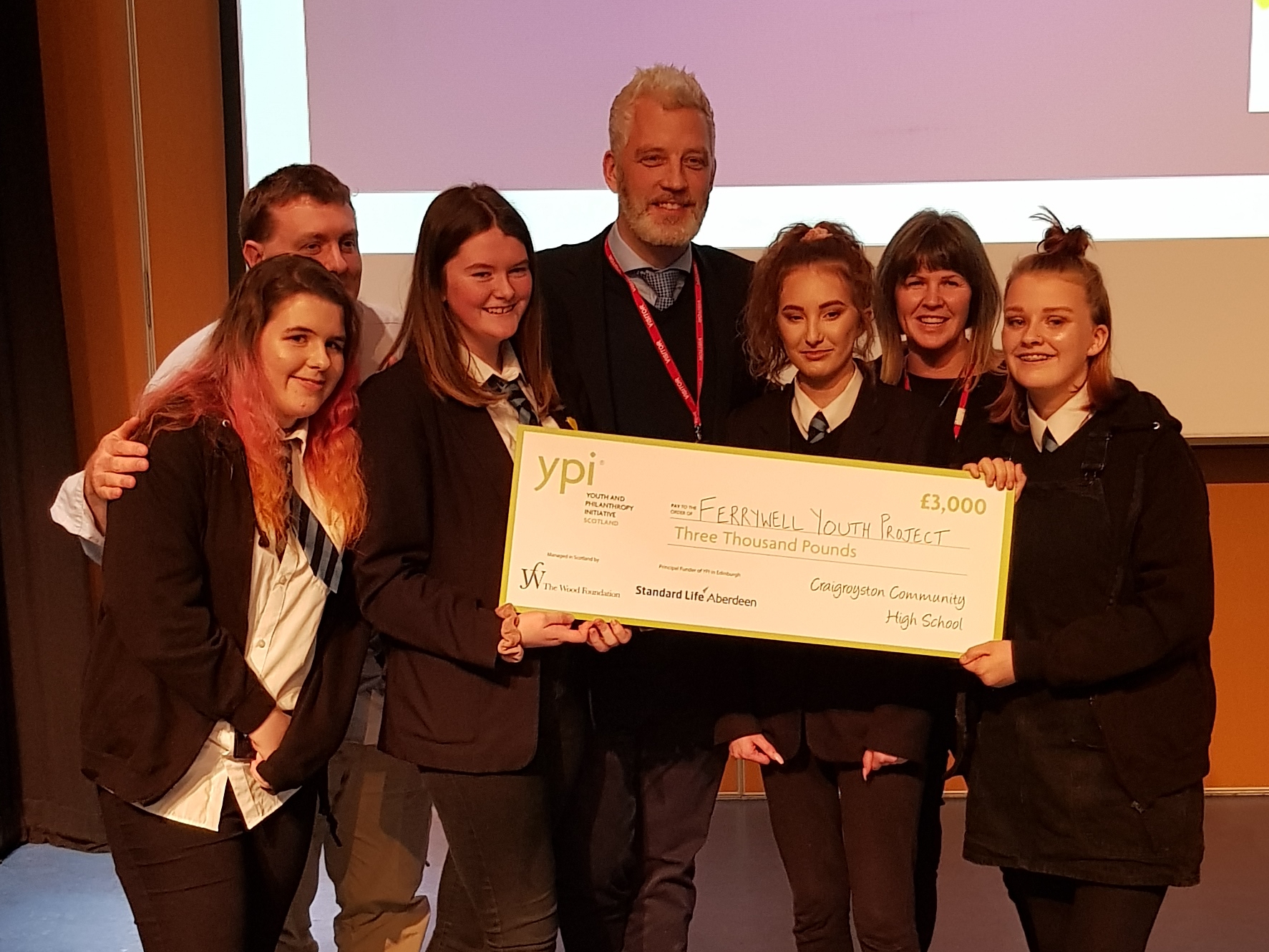 Craigroyston Community High School pupils secured £3000 for a charity that has given them 'a sense of belonging'.
Kirsty, Jessica, Rhiannon and Demi-Leigh made up one of five finalist teams at their school's Youth and Philanthropy Initiative (YPI) final.
The girls have each benefitted from Ferrywell Youth Project's DIME sessions and their personal connection to the charity moved judges Garreth Wood, Trustee of The Wood Foundation.
YPI is the flagship programme of The Wood Foundation. Garreth said:
"It was a huge pleasure to judge Craigroyston Community High School's YPI final.  YPI teaches young people about humanity, citizenship and provides insight into the issues facing Scottish communities. The young people should be proud of how they have represented their school and community today."
The funds will be used in the creation of a welcoming space for its users in its new premises.
Kirsty was part of the winning team. She said:
"We are so happy that we won the grant and able to give back to a charity that means a lot to us all.
"We really enjoyed the YPI experience. It has really helped us build our confidence."
Garreth was joined on the judging panel by Headteacher Shelley McLaren. The principal partner of YPI in Edinburgh is Standard Life Aberdeen
Shelly McLaren said:
"All of the finalist teams did a wonderful job and I was incredibly impressed with their passion, presentation skills and the maturity in which they tackled social issues.
"YPI is an important element of our S5 curriculum and we believe it not only benefits our local community but our pupils as well."
This is Craigroyston's second year delivering YPI with last year's recipient charity being Pilton Youth Project. Nineteen schools in the Capital complete YPI each year bringing a boost of £57,000 to local grassroots charities tackling a range of social issues. The principal funder of YPI in Edinburgh is Standard Life Aberdeen.