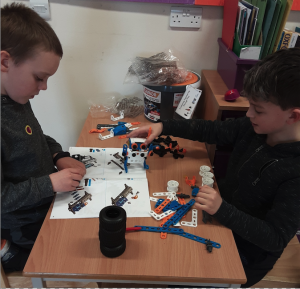 Three Scottish local authorities have committed to a programme which will support improved STEM learning experiences for primary pupils.
Teachers will be supported by Primary Science Development Officers (PSDOs) who will lead upon professional learning, network, and partnership opportunities to bring STEM learning to life.
Renfrewshire, Dundee, and South Lanarkshire have embarked upon RAiSE (Raising Aspirations in Science Education), a programme of The Wood Foundation, Scottish Government, Education Scotland, and participating local authorities. The investment funds the PSDO post and engages the authorities to join a national network which has engaged 20 of Scotland's local authorities to date.
Gayle Duffus, National Education Officer leads the RAiSE programme. She said:
"It is wonderful to continue expanding our network and to welcome these authorities. There is a lot of great work to build upon and we're looking forward to developing plans with the education teams which reflect the local needs and context of the regions to support primary teachers to deliver motivating and engaging STEM experiences for our youngest learners.
"Inspiring a love and understanding of STEM, harnessing the natural curiosity of young people, is vitally important in terms of creating the foundations of the STEM nation of the future."
RAiSE supports teachers to develop the skills, networks, and confidence to develop and deliver STEM learning experiences which align with local priorities, as well as national drivers.
Gayle Gorman, Her Majesty's Chief Inspector of Education and Chief Executive of Education Scotland, said:
"Education Scotland is delighted to welcome a further three local authorities to the RAiSE programme. Our partnership with The Wood Foundation, Scottish Government, and participating local authorities has already improved the confidence of many thousands of practitioners in relation to primary science and STEM education. We are looking forward to extending this impact to ensure more learners and practitioners benefit from the high-quality support available."
In 2020/21, 500 professional learning opportunities were delivered by the network with more than 4000 practitioner engagements. These ranged from sessions focussed on the use of particular resources, aligning STEM with literacy and numeracy, engaging external partners, and outdoor learning opportunities, as well as tailored and individualised support responding to specific needs.
The PSDO post is funded for a period of two years. The majority of authorities remain engaged and use the investment period to develop a strategy to continue a dedicated focus to the development of STEM education.