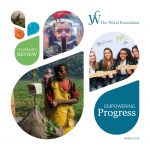 The Wood Foundation has issued its latest Chairman's Review. Entitled 'Empowering Progress', it provides an update on the social and economic transformational change achieved by its suite of programmes and investments, as well as the success stories of individuals who are now leading on sustainable impact within their communities.
Key highlights include:
Work with 66,000 smallholder tea farmers in East Africa.
$220m of investment, with key partners, for planting 14,500Ha of tea in greenfield developments.
The tea processing factory purchased in Rwanda, which will eventually be 100% owned by smallholder farmers, now accountable for a quarter of the country's production.
Climate smart agriculture innovation and training.
£4m granted to social service charities in Scotland championed by thousands of school pupils taking part in the Youth and Philanthropy Initiative.
More than 22,000 hours of professional training delivered to education practitioners involved in the Raising Aspirations in Science Education and Global Learning Partnerships programmes.
£62m committed to the UK's only private sector led and funded regional economic development body Opportunity North East.
A free-to-use multi-storey car park at Aberdeen Royal Infirmary.
Sir Ian Wood, Chairman of The Wood Foundation, said:
"Within this Review, we share the goals, thoughts, outcomes and ambitions of The Wood Foundation's programmes and investments and celebrate some of the individuals who have been empowered to progress their own life skills, philanthropic efforts and economic stability as a result, creating a positive impact in our world.
"When I established The Wood Foundation in 2007 with my immediate family, our goals was to address some of the inequities facing individuals and communities. I am immensely proud of what has been achieved by our teams in Scotland and East Africa. These have already reaped significant benefits and, most importantly, provided platforms for long-term, sustainable change."
The full Chairman's Review can be read here. If you would like a hard copy or would like to discuss the document further, please contact info@thewoodfoundation.org.uk.