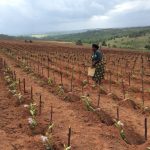 Over 3,000 farmers to benefit from the smallholder outgrower program that will trigger further investment and deepen economic growth.
His Excellency President John Pombe Joseph Magufuli today commissioned Unilever Kabambe Tea Factory in Njombe, defining a significant milestone that will boost the tea industry and deepen economic growth in the region. The new factory is a direct product of a partnership agreement with the Government of Tanzania through the Ministry of Agriculture and features the latest in tea processing technology.
Through this venture, otherwise known as the Njombe vision, Unilever has built a state-of-the-art tea factory, providing Njombe farmers a guaranteed market and sustainable price for quality leaf. The Wood Foundation Africa, The Gatsby Foundation, and the UK Government's Department for International Development (DFID) have collaborated with Unilever to establish the Njombe Outgrower Services Company (NOSC) which provides dedicated agronomic support, inputs, production logistics, and no-interest, patient capital financing to Njombe smallholders in a revolutionary new approach where farmers will ultimately take ownership of the services company to become self-sufficient.
Unilever Tea Tanzania Managing Director, Ashton Eastman, reinforced Unilever's commitment in supporting the development of tea industry in Tanzania and local community livelihoods.
"Unilever's strategy is to produce the highest possible quality of tea which in turn will provide higher returns to both the company and smallholder farmers. Today's launch therefore signifies a key milestone for the future of the tea industry in Tanzania as it will encourage the growth of further investments by both parties to drive efficiency and expansion of output." said Eastman.
Unilever has injected in excess of Tsh 100 billion in the project through infrastructure development in the factory, building expansion, new tea planting, social investment and smallholder development activities.
On behalf of The Wood Foundation Afruca, Sir Ian Wood said, "Our joint investment in Njombe Outgrowers Services Company has delivered tremendous success. The response by close to 3,000 extremely industrious, hardworking and innovative smallholder farmers growing new tea on initially about 2,500 hectares of land is quite uplifting.  We're now doing some serious block farming and looking at irrigation and other developments which will make this venture even more successful."
Also speaking at the launch, H.E Sarah Cooke, British High Commissioner in Tanzania said:
"I am delighted to be here at the launch of this new Unilever tea factory.   The UK Government is committed to supporting responsible investment to increase agricultural productivity and agro-processing to benefit smallholder farmers in Tanzania. The private sector is the engine of growth and job creation, vital to achieve poverty reduction in regions such as this across Tanzania."
For more information please contact Ashton.Eastman@unilever.com or Joseph.Sunday@unilever.com.