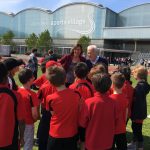 The Wood Foundation has been a long-term supporter of the Aberdeen Youth Games (AYG) – a partnership initiative of Sport Aberdeen, RGU and NESCol to provide primary pupils in the city access to high-quality sport and healthy living opportunities.
Due to the Covid-19 pandemic, this year's programme of activity was cancelled. The Wood Foundation has committed to redeploying its funds to efforts in 2021.
Sir Ian Wood, Chairman of The Wood Foundation, said:
"The Aberdeen Youth Games 'Festival of Sport' is always a wonderful day and a great opportunity to see so many young people come together to enjoy sport.
"What's more important is that healthy lifestyles and exercise are essential for physical and mental wellbeing. Schools have a vital role to play in this area and can be well supported in this through partnerships like this.
"Unfortunately, this event is yet another casualty of Covid-19 and it is sad we're missing this year's programme.  However, we are pleased to be in a position to realign our funding to delivery in 2021 and will once again enjoy what is an outstanding day in our philanthropic calendar."
More than 100 student coaches were set to deliver activities in primary schools, culminating in the Festival of Health at the Aberdeen Sports Village on 22nd May.
Graeme Dale, Sport Aberdeen Head of Sport and Active Communities, said:
"We are proud to continue working with RGU and NESCol to deliver the games and the effort which the Active Schools team put in to help foster a culture of physical activity amongst young people in the city is admirable. Thanks to the continuing support of The Wood Foundation, the Aberdeen Youth Games will return next year and the partnership will now use this time to start planning on how AYG 2021 can be the best yet."
Sport Aberdeen has produced an online programme of free resources, aimed at encouraging children to remain active while schools and extracurricular activities remain on hold. https://www.sportaberdeen.co.uk/get-active-home-junior