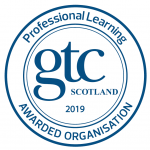 "This accreditation and endorsement exemplify the direction of our investments and activities for our Developing Young People in Scotland portfolio," Georgea Hughes, Programme Manager.
"We are committed to being a visionary and impactful developer, manager and funder of programmes which create systemic, sustainable and positive change for our young people.
"Empowering confident, innovative and skilled teachers to deliver motivating and inspiring lessons, bettering outcomes across the education sector is how we best address the need to create the workforce of the future.
"The GTCS accreditation of The Wood Foundation as a provider of professional development programmes for the education sector is an important recognition. We are also incredibly pleased to have our Global Learning Partnerships and Youth and Philanthropy Initiative programmes endorsed by Education Scotland's Professional Learning and Leadership team.
"It is rare for a charitable foundation to be accredited and, indeed, to operate in this way. GTCS accreditation and endorsement by Education Scotland act as independent quality marks for teachers. They highlight our belief in working with and for teachers, co-designing and delivering collaborative programmes which address a gap in the education system.
"Reinvigorating the existing workforce, providing the training that ensures they can address the needs of today's pupils is the most cost-effective way of making a lasting difference. Creating programmes which can cascade throughout the system and have a systemic impact is a major focus of our dedicated team."