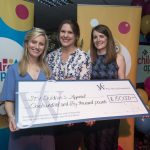 The Wood Foundation has committed a further £150,000 to the STV Children's Appeal, taking its total invest to £1.2m.
The Wood Foundation has supported the Appeal, which addresses the immediate impacts and root causes of childhood poverty, for eight years. The funding has predominantly been awarded to organisations in the North-east of Scotland.
The Wood Foundation also sits on the board of the Appeal.
Ali MacLachlan, UK Director of The Wood Foundation, said:
"We are incredibly proud when we hear of the successes empowered by this funding in communities here in the North-east. These organisations, who understand the needs of local families, are turning lives around and giving children a better start in life.
"No child should have to worry about hardship over embracing opportunities to have fun, excel, learn, and grow. Supporting families and ensuring they are living safe and healthy lives must be supported within our communities.
"The STV Children's Appeal is a fantastic example of an organisation which is working to breakdown preconceptions in relation to poverty, address the root causes, and give families hope for today and the future."
This year's STV Children's Appeal live show, aired on 17th October, raised a record total of £3.5m. This funding will be more important than ever as existing poverty is exacerbated and many families will face hardship for the first time as a result of the Covid-19 pandemic.
Lynn Hendry of the STV Children's Appeal said:
"We value our partnership with The Wood Foundation. Their commitment over a sustained period will have directly improved the life chances of a generation of young people who have benefitted from involvement with some of the inspirational organisations working tirelessly across North-east communities."
To find out more about the STV Children's Appeal, visit stv.tv/appeal.