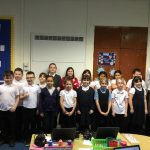 The Wood Foundation was recently accredited by the General Teaching Council of Scotland (GTCS) as a provider of professional learning. We are committed to providing opportunities which promote critical enquiry and innovation.
Informed and confident practitioners are essential for enabling young people to succeed in learning, life and work and our investment in the professional workforce is key within our commitment to developing young people in Scotland.
Jordan Mayne is a teacher at Warout Primary School in Glenrothes. He has been involved with the RAiSE programme for more than a year. He said:
"I have found the support of the RAiSE PSDOs invaluable in terms of lesson inspiration and structure. I am applying this elements of this learning to other curricular areas.
"The encouragement from our local PSDO has been incredibly helpful. My first STEM lesson went well. The second didn't – we ended up with a soaked classroom. The PSDO supported me in tweaking that lesson plan and, upon delivering it again, it was a success. I know now not to become discouraged if things don't necessarily follow a set plan.
"STEAM offers an interdisciplinary approach which really engages the pupils."
Karen Doherty is the PSDO in Fife for RAiSE. She said:
"The whole team at Warout has fully embraced any and all opportunities to develop STEAM across the school, seeking and responding positively to suggestions from PSDOs. The core purpose of the RAiSE programme is made manifest in the actions and attitudes of the Warout team. This, in turn, is reflected in the strong engagement of the pupils."
YPI and Global Learning Partnerships have been further endorsed by Education Scotland Professional Learning and Leadership team. Read about a YPI Lead Teacher's professional learning journey here.