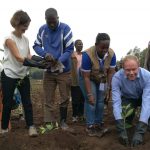 The Wood Foundation Africa hosted the Permanent Secretary of the UK Department for International Development (DfID) Matthew Rycroft at its greenfield development site in Nyaruguru District in the southern province of Rwanda.
DfID has been a co-investor in The Wood Foundation's venture philanthropic efforts in the tea industry in Rwanda and Tanzania.
As part of his three-day tour in Rwanda, Matthew Rycroft visited Nyaruguru to assess the impact of more than three years of investment and support by The Wood Foundation, DfID, Unilever and the Gatsby Charitable Foundation.
David Knopp, Director of Africa at The Wood Foundation, said:
"It was great to welcome Permanent Secretary Matthew Rycroft to our Nyaruguru greenfield site. While we can report on the impact of this investment, the opportunity for Mr Rycroft to see the success of the site firsthand is incredibly important and useful.
"The combination of public and private support, coupled with private philanthropic investment, has allowed for this high-risk venture to proceed. This will result in sustainable access to professional farmer services, access to long-term patient capital, and a dedicated market and premium price for high quality tea.  The impact from this investment will provide transformational change for generations to come."
The Nyaruguru Greenfield Development will transform more than 4,200 Has of acidic soils into a high-value crop, creating a biological asset for the farmers.  It will also develop 7000 new tea farmers and directly impact more 10,000 new jobs in the District.
In 2017, this Unilever investment was cited as a top source of Foreign Direct Investment by the Government of Rwanda.