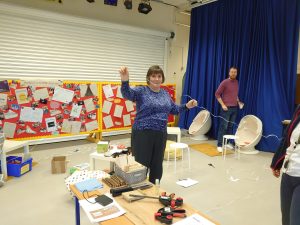 Catriona Gilchrist, Primary Science Development Officer for the RAiSE programme in the Western Isles, passed away on Saturday 5th February.
Catriona was an experienced and much-loved and respected educator in the Western Isles, known for her passion for STEM.
The Wood Foundation's Education Director Gayle Duffus reflects upon Catriona's impact during her tenure with RAiSE.
"Catriona was an important part of our team. She was supportive, inquisitive, creative, resourceful and practical, unassuming with a can-do attitude.
"She joined the RAiSE network in January 2021 and quickly used the opportunity to make a difference through her lifelong passion for STEM for schools across the islands, committed to children have opportunities to stretch their learning. As a teacher herself, she knew exactly how to support teachers and from feedback we know that they found her inputs and attitude invaluable.
"She always said 'STEM – it's easy, I'll show you' and with that, she'd be in the car and off to a school to show them. Catriona made STEM accessible. So much so she was stopped in Tesco by a teacher who had heard about an in-service day that had she had delivered, asking for her school to have it too! It was all about connections for Catriona and she was respected for her willingness to support with a range of activities, resources, and advice.
"As an ambassador of the Gaelic language, she was instrumental in ensuring an array of resources for Science and STEM were translated to promote use of the language.
"Catriona is someone who inspired me and so many others in education and the legacy of her work will continue."
For any enquiries, please contact raise@thewoodfoundation.org.uk.