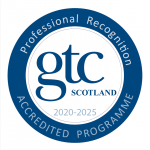 The immersive professional and personal learning and development programme, which empowers leaders of LfS, includes a month-long placement in Uganda and Rwanda. More than 100 practitioners from 17 Scottish local authority regions have collaborated with educators in the countries with sustainable, context-driven approaches to learning and teaching.
There are several interventions in advance and after the placement to support practitioners prepare for, and reflect upon, their achievements, growth, and learning.
The GTCS panel was impressed by the personal learning experience the programme offers, as well as the collaboration that is prevalent throughout its activities.
Georgea Hughes, Programme Manager at The Wood Foundation, said:
"This reaccreditation is testament to the incredible achievements of our network – a group of practitioners who truly grasp opportunities for growth, learning, innovation, and collaboration. Empowering them through lived experience, supporting them on their journeys, and harnessing this incredible network is driving the long-term sustainability and impact of the programme.
"We are committed ensuring our offering continuously evolves and is addressing a need within the system which gives practitioners the space to realise their own potential. It is only by investing in the education workforce in this way that we can offer our young people the opportunities to learn about the world around them and the role they can and should play in making a difference."
The GTCS panel further commented that the programme's approach to engagement and development are centred on the national model of professional learning. Following their overseas placement, participants are well-supported by the Programme Manager Georgea to apply for GTCS Professional Recognition.
The Programme Manager is currently supporting 10 participants from the 2019 cohort as they work towards their Professional Recognition.