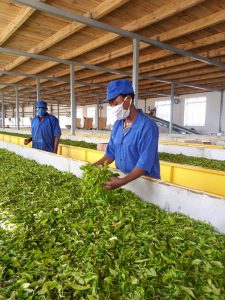 The Wood Foundation Africa invests in the sustainable development of the tea industry, focusing on the success of smallholder farmers and their communities.
An analysis of the spillover economic benefits of its Rwandan greenfield sites has revealed the investment could potentially impact more than 150,000 people in the southern region of the country – an area which was severely limited economically.
Some of the emerging results from these greenfield investments in Rwanda include:
By December 2020, more than 15,000 cumulative direct jobs (around 5000 permanent and 10,000 casual jobs) had been generated at the Rugabano and Nyaruguru greenfield projects.
More than USD 135m will be leveraged and invested from a range of public, private, and philanthropic partners.
The Government of Rwanda has thus far committed to build at least 128 kilometres of new roads and rehabilitate existing ones in the catchment area. David Knopp, Director of Africa at The Wood Foundation, said:
"Economic transformation based on venture philanthropic principles looks beyond those we are investing in to understand the impact on communities and economies. Our approach is, by design, fair, sustainable, and systemic. Deploying business principles through a social lens allows us to be brave and impactful and realise transformational change."
Read the full report here.